ConnectED - Virtual Library Cards
Utica Public Library and Utica Community Schools team up to offer virtual library cards.
The Utica Public Library through the Suburban Library Cooperative and Utica Community Schools have teamed up to offer Virtual Library Cards to all students in Utica Community Schools, ensuring that all students have access to resources available through the library. 
To access materials, just log in using your student ID and PIN (your birthday). 
If you have a student card, but are having trouble logging in, please call us at 586-731-4141. 
Would you like to borrow physical materials such as books or movies? Stop in to the library to upgrade your student card to a Utica library card with full privileges!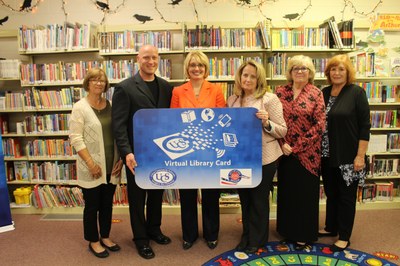 UCS and Utica library staff and board members celebrate the start of the Virtual Library Card program.